Employee Benefits Advisor Credentialing Program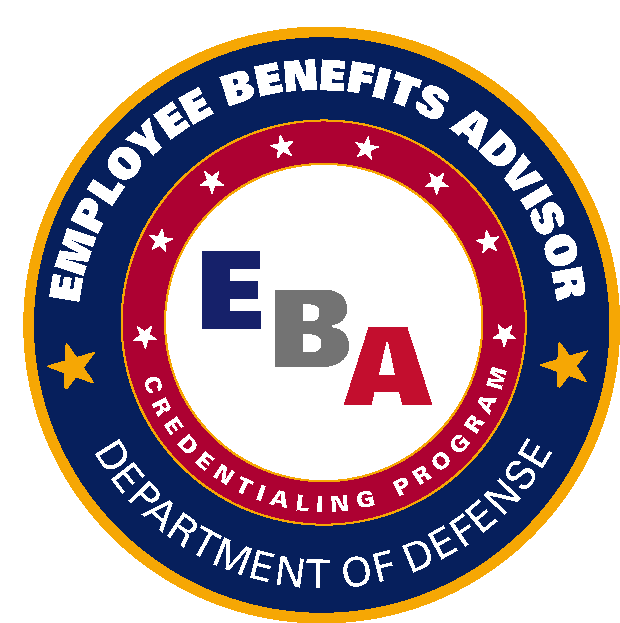 DCPAS developed and manages the Department of Defense Employee Benefits Advisor (DOD EBA) Credentialing Program. The first certification program of its type within the Federal Government, the DOD EBA promotes the journey to professionalize the DOD HR Community. The program focuses on the interpretation and application of Federal laws, regulations, and DOD policy and practices within the Employee Benefits functional area.
EBAs earn "credentials" through completion of the three-tier DOD EBA Credentialing Program. The overall program consists of three examination levels. The employee must attend the three (3) resident courses offered by DCPAS and complete the corresponding exam(s) in sequential order.
DOD recognizes that the Office of Personnel Management's Human Resource (HR) Competencies are essential to providing quality human resource services. With this thought in mind, all course material is centered on the EBA technical competency: Knowledge of HR concepts, principles, and practices related to retirement, insurance, injury compensation, and other employee benefits programs as prescribed in the Human Resources Management Competency Model.
NOTE: To retain your EBA Credentialing certification, you must be in the 0201 or equivalent occupational job series (and be currently assigned as an Employee Benefits Advisor), and successfully pass a recertification exam every 3 years. For more information, please email the Credentialing Team at mailto:dodhra.mc-alex.dcpas.mbx.dod-bwnp-credentialing@mail.mil.
Resources
For More Information, please contact
Email:dodhra.mc-alex.dcpas.mbx.dod-bwnp-credentialing@mail.mil
Address:
Defense Civilian Personnel Advisory Service
4800 Mark Center Drive
Alexandria, VA 22350-1100